In truth, there is a very simple formula for what constitutes a cure for cancer.
a) There must be proof that the cannabis user actually has cancer.
b) There must be proof that cannabis was the only treatment used.
c) There must be proof that the cancer is completely gone and remains gone for at least 5 years.
While it is true that – according to experts such as Dr. Lester Grinspoon and others who have been searching for exactly this kind of proof – there has yet to be solid proof of cannabis curing cancer, there is no reason to suspect that such proof will never be found. In fact, there are three good reasons to suspect this proof will be found relatively soon: the massive number of people now using cannabis as a treatment for cancer, the massive amount of research currently going on in this area, and the new removal of the red tape surrounding research brought about by victories on the recreational cannabis front.
As it turns out, many of the medicinal elements in cannabis are some of the most effective anti-cancer agents known. According to research done by Rob Callaway in a yet-to-be published work, cannabis has been found to be effective in wide range of cancers;
"Multiple animal and preclinical studies, as well as a few case and/or pilot studies strongly suggest that cannabinoids are cancer fighting agents for a wide range of cancers, including breast carcinoma (Cafferal et al., 2010; Cafferal, Sarrió, Palacios, Guzmán, & Sánchez, 2006; De Petrocellis et al., 1998; Ligresti et al., 2006; McAllister, Christian, Horowitz, Garcia, & Desprez, 2007), prostate cancer (Mimeault, Pommery, Wattez, Bailly, & Hénichart, 2003; Ruiz, Miguel, & Diaz-Laviada, 1999; Sarfaraz, Afaq, Adhami, & Muhktar, 2005), pancreatic adenocarcinoma (Carracedo et al., 2006; Michalski et al., 2008), colorectal carcinoma (Patsos et al., 2005), skin carcinoma (Casanova et al., 2003), neuroblastoma (Guzmán, 2003), lung carcinoma (Guzmán, 2003; Preet, Ganju, & Groopman, 2008), uterus carcinoma (Guzmán, 2003), oral cancer (Whyte et al., 2010), cervical carcinoma (Ramer & Hinz, 2008), lymphoma (Gustafsson, Christensson, Sander, & Flygare, 2006; Gustafsson et al., 2008), gliomas (Blázquez et al., 2003; Blázquez et al., 2004; Galve-Roperh et al., 2000; Guzmán et al., 2006; Massi et al., 2004; Sánchez, Galve-Roperh, Canova, Brachet, & Guzmán, 1998), leukemia cells (Jia et al., 2006; Powles et al., 2005), and biliary tract cancers (Leelawat, Leelawat, Narong, & Matangkasombut, 2010). In fact, the evidence overwhelmingly demonstrates that the cannabinoids have anticancer properties, with hundreds of peer-reviewed studies to date demonstrating these effects (see http://www.cannabisscience.com/ for a list of over 800 peer-reviewed cannabis and cancer references)."
Cannabis Myths Exposed, Rob Callaway, M.A., (unpublished)
See also http://www.jci.org/articles/view/37948
http://cannabisnews.com/news/5/thread5972.shtml
Callaway also points out that, due to pressure from elite groups, human studies of cannabis as a treatment for cancer have been kept to a minimum. Non-prohibitionist research associations such as MAPS have been blocked from doing research into the positive effects of cannabis – blocked by the DEA and the NIDA – since MAPS was founded in 1986 … right up to the present day:
http://www.maps.org/research/mmj/
http://www.popsci.com/science/article/2013-04/why-its-so-hard-scientists-study-pot
Even highly conservative institutions such as the National Cancer Institute and the Institute of Medicine support further research into cannabis, but the DEA and NIDA succeed in blocking nearly every attempt at such research:
http://articles.latimes.com/2013/jan/25/opinion/la-ed-marijuana-dea-medical-research-20130125
One assumes that the freedom created by the successful legalization initiatives in various US States – and now Canada – will create opportunities to do research into the therapeutic and beneficial effects of cannabis. The "Herer Initiative" that Californians at one time could have put on their ballot stated:
"Medical research shall be encouraged. … Fifty percent of the excise tax revenues collected shall be made available for the research, development and promotion of industrial, nutritional, and medicinal hemp industries in California."
http://www.cchi2014.org/fulltext.html
It is only a matter of time before a similar initiative passes and the opportunities to investigate cannabis as a cure for cancer multiply exponentially.
Many people already claim to have been cured by cannabis of their cancer:
http://www.cureyourowncancer.org/testimonials.html
24-yr-old Rejects Chemo, Curing Brain Cancer with Cannabis Oil
http://www.420magazine.com/forums/cancer-healing/140579-cannabis-oil-cured-my-cancer.html
It's only a matter of time before these testimonials are collected and put through the systematic methodology of scientific scrutiny and meet the criteria for being a "cure" set out by science.
For more information on the relationship between cannabis and cancer at Potfacts, see also:
This also has to do with cannabis and cancer.
Here is some of the latest info on the subject from other media:
In order for cannabis to find its way into routine clinical cancer treatment, rigorous pharmacological and clinical studies need to be done. And to accelerate this process, the federal government should lift the federal ban on medical cannabis.
"We observed that when we treated [astrocytoma, a type of brain tumor] cells with cannabinoids, the THC…was killing the cells in our Petri dishes," Dr. Sanchez says. "We…decided to analyze these components in animal models of breast and brain tumors. The results we are obtaining are telling us that cannabinoids may be useful for the treatment of Breast Cancer."
Sanchez and other researchers have confirmed that the most potent effects against tumor growth occur when THC and CBD are combined.
Cannabidiol, or CBD, which does not have a psychoactive effect, has long been known as a potent anti-cancer agent. This is because of its ability to interfere with cellular communication in tumors as well as in its ability to instigate apoptosis, or programmed cancer cell death. Some research studies, including in vitro and animal-based trials conducted by San Francisco-based researchers at the California Pacific Medical Center, have also shown that CBD may affect genes involved in aggressive metastasis. It does this by helping to shut down cellular growth receptors.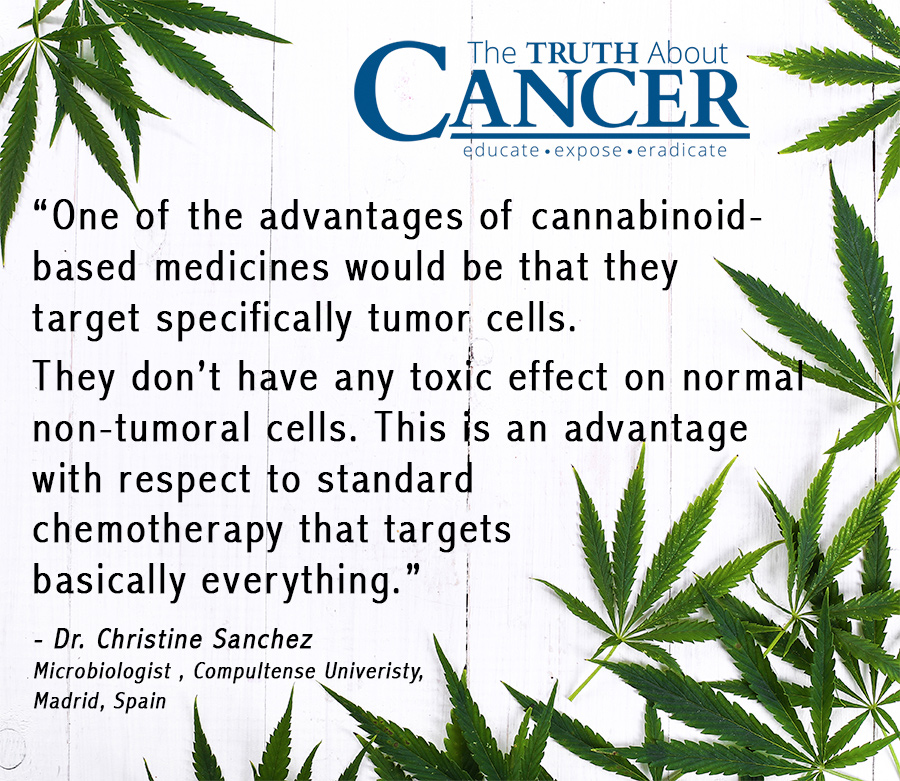 Δ9-Tetrahydrocannabinol (i.e. THC), the psychoactive counterpart to CBD, has been shown to reduce tumor growth as well. It has also shown to have an effect on the rate of metastasis, including for non-small cell lung cancer − the leading cause of cancer deaths globally. A 2007 study on THC and highly-aggressive epidermal growth factor receptor-overexpressing (EGF-expressing) lung cancer conducted by Harvard Medical School found that certain EGF lung cancer cells express CB1 and CB2 cannabinoid receptors. They found that the presence of THC effected metastasis of these cells by reducing the "focal adhesion complex," which plays a vital role in cancer migration.
Studies have also been conducted on the combined effect of CBD and THC on lung, prostate, colon, pancreatic, liver, bladder, cervical, blood-based, brain, and other forms of cancer. These studies lend increasing evidence to the fact that cannabinoids are not only antioxidant phytonutrients but powerful "herbal chemo" agents.
Says Dr. Sanchez: "One of the advantages of cannabinoid-based medicines would be that they target specifically tumor cells. They don't have any toxic effect on normal non-tumoral cells. This is an advantage with respect to standard chemotherapy that targets basically everything."